Auto Shop and a Career in Automotive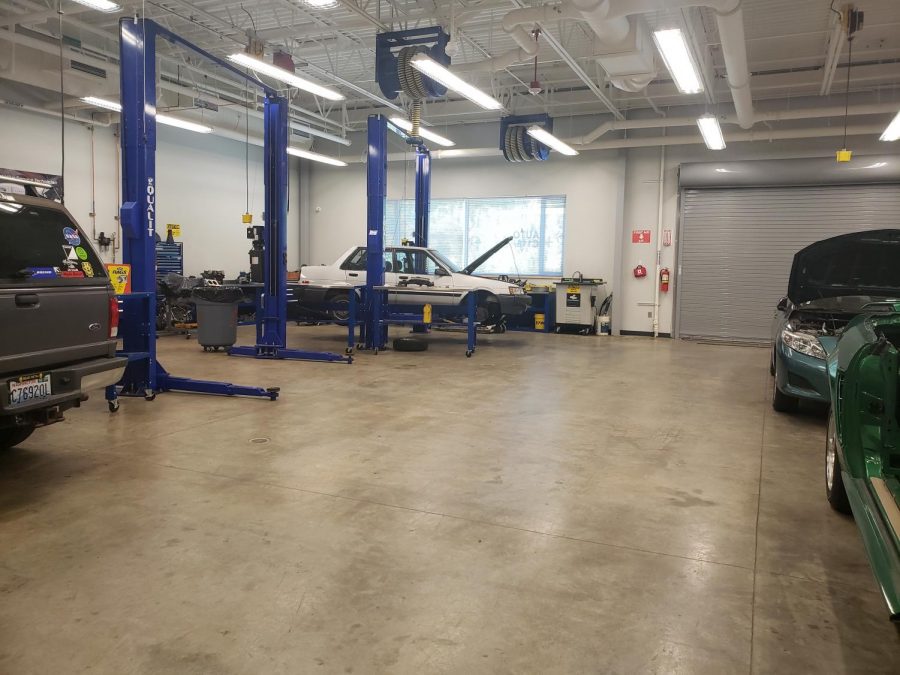 Tahoma offers a large variety of electives such as music, art, welding, robotics and many more. Tucked away in the back of the school, in a hallway some people may not ever go down rests the auto shop, a CTE class. A classroom connected to a shop with three 2-post lifts and one alignment rack.
In this class, students can expect to learn a variety of skills such as alignments, oil changes, inspections, and have  the chance to do just about anything they need to on their own cars. Tahoma's auto shop program at the school is phenomenal, it saves students money and gives students a chance to do some hands-on work and get a taste of a career as a mechanic.
If you have looked into mechanics as a job you would know that you have to buy your own tools,which can get expensive. Many mechanics who have been in the industry have spent well over $20,000 on tools over time, not to mention the $3,000 – $10,000 on a toolbox.  Even in automotive programs at some schools you are required to have your own tools.
Here at Tahoma, it's the exact opposite. The tools are provided, not only basic tools like sockets, wrenches and screwdrivers but specialty tools as well. There are bearing driver kits, pulley pullers, compression testing kits and much more.
Geoffry Fiorito, the auto shop teacher said "Next year I am going to go through the tools and replace every damaged or worn piece of equipment with new ones as well as buy some more specialty tools and tool kits".  By next year Fiorito plans to have roll carts set up for students to take on bigger projects and  save time. Instead of having to walk all the way across the shop to get a single socket or screw driver you will have everything you need right in front of you.
Some people may not think of auto shop class as anything more than learning about cars but to many this class is the start of a career. This class allows students to get the fundamentals down for working on motors. If a student is really interested in automotive but is also really involved in FFA they could combine the two and look for a career in agriculture mechanics, this would involve working on tractors, trucks and other farm equipment. This goes for many classes our school offers like metals, robotics and even art. These all could be connected to a career in automotive.
About the Writer
Dylan Caldwell, Staff
I am a senior at Tahoma High School, this is my first year in journalism. I'm interested in US politics and learning about our country's history. I enjoy...