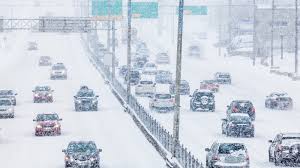 According to the local law enforcement during winter teenagers driving on Washington Road are at an increased risk for vehicle risks and accidents.
Maple Valley police officer Carl Bennell recommends, all drivers to carry, flares, ice scrapers, megkets, and chains driving in this condition of the month of winter.
Start out driving slowly to make sure how much ice is on the ground and if there is a large amount, it would be safe not to go anywhere.
If it feels safe enough to drive, make sure you still drive slow and pay attention to all surroundings and when taking a turn, make sure you brake slightly before the turn so you don't swerve off the road with no control.
Additionally, make sure you put snow tires on your car if you have any so that you can get better traction on ice or snow.
Ways to get to school safe
According to Lauren, LaRon Speed a former student from Tahoma High School, before he gets to school every morning in the winter he preps his car in the morning to start it up and let it warm up before leaving.
This is a safe option because of getting the windows all warmed up and clear to see the road better. LaRon also gets an ice scraper to get all the ice and snow off and afterwards he gets a cup of hot water and pours it down the window to get the rest off and clears the whole window. 
Going downhill he keeps his distance so just in case if he breaks he's not sliding into the next person in front of him and going uphill so he's not sliding downhill. When he is not regularly turning or breaking he is driving very slow so that he doesn't slide into the other lanes or flip. Just preventing any accidents on highways, he's extra cautious looking around him just in case.
It's not even just you it's other people not doing the same thing that LaRon is doing and you simply need to be extra cautious because in officer Carl Bennell's research out of the percentage of boys and girls more boys are in accidents in the winter than girls by 80%.