Safe spaces at Tahoma
a new program promotes tolerance and inclusion
Many people are part of the LGBTQ community, including high school students. Not many students feel safe in their environments, so Hilary Ledford, a teacher at Tahoma and the advisor of the GSA, has created a safe space program for teachers to attend. The training has been during spring and fall of the previous year, and one will be held during spring of the current school year. Once they complete the program, they get a safe space sticker to let others know that they've gone through the training.
Safe spaces are a common thing, found on college campuses and in communities. There are safe spaces for people of color, LGBTQ people, and many more. In these safe spaces, people are respectful of each other, and they can relax and feel safe. The ability to feel safe in one of these spaces helps mental well-being, which helps the overall health of people.
So, Hilary Ledford brought safe spaces to the high school for LGBTQ students at Tahoma. The safe space training is a twist off of the Glisten training, and the main idea is to give teachers the tools to become allies to students. The teachers ask a panel of students questions about what it's like to be a student at Tahoma and some struggles they have specifically being part of the LGBTQ community. "The feedback from the staff that attended has been really positive, especially the feedback from students that they found useful in their classroom. They feel better prepared to support students," said Ledford. The safe space program is optional for teachers, and out of all of the teachers at Tahoma, only half of them have gone through the safe space training.
Some students who are part of the GSA have been on the panel for the safe space training. "At first, since I didn't know what they were, it was really amazing and it seemed that the staff were all randomly supporting the LGBTQ community. But once I was in GSA, and I was told how you got the stickers, it gave me confidence in a lot of the teachers. The teachers would come to learn and give up their time. It was really comforting to see that they cared" said junior Caroline Lathrop.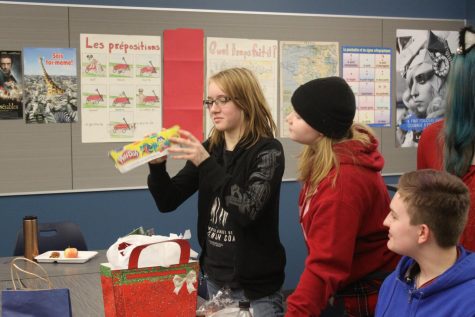 The students in GSA all work together for making sure that students in the school feel safe and accepted. "It kinda just makes me feel that if there's any situation that involves my sexuality, then I could go to them, and they won't be judging me. They would be open and say 'Yeah, I'll help you'," said junior Madison Sevedge. "I think that they're really cool and it's great to have them up. It's great to know that we have educated people and they are accepting of LGBTQ students. I think it helps all LGBTQ students see that they are respected by staff and other students," said sophomore Aidan Schatz.
How do students who are not part of this community feel about these stickers? "I think that it's really cool. I didn't know that the school was doing that. I think that it's really great that they're trying to be inclusive. I think it's really great and that every classroom should have one," said junior Casey Wales. How do the teachers feel about the stickers? "[The stickers are] a nice, simple way to let people know that I'm trying to be consciously aware of making my classroom a welcoming place for those who need it," said staff member Kristen Eisele. "I don't think it's fair to force people to do things they don't want to, but I think it would be a nice option for an in-service day. It's important to know how to support our students."
But not everyone has the same opinion on the stickers. There are people in the community who don't believe that the LGBTQ community should have the same rights and protection as everyone else. So the idea of putting the stickers up in the school might make these people upset.
So, should we make the safe space training required? "We have few things for teachers that are required. I don't think it makes sense to force people to be allies, and students want the stickers to mean something, not just be up for show," said Ledford. If the training was required, then there could be some teachers who have problems with this. Not everybody accepts the LGBTQ community, so if all the teachers were required to go through the safe space training, this would cause some issues with those who don't support it.
With the safe spaces in colleges and the community, not everyone likes the idea of the spaces. Some people might say that we are "coddling" the young Americans, that there aren't tough enough to listen to something they don't agree with. Some people have said that the safe spaces are a threat to their jobs, like professors that say their oversensitive students might force them out of their careers, and others are saying that the spaces threaten certain social movements that they care about.
The safe space stickers do signify that the classroom is accepting of the community and that they can talk to the teacher about some issues. And the classrooms without the stickers don't mean that they aren't a safe place. They have a good reason to not have them. "I think that they are an unfortunate necessity in this world. It makes me sad that we can't just accept our students for who they are and how they identify. In a perfect world, we wouldn't need them. I would hope that our students wouldn't prejudge a teacher for not having a safe space sticker, but I can understand the hesitance to talk about those things [with a teacher that doesn't have a sticker]," said staff member Cavin Eggleston. And some teachers who don't have the stickers haven't had the chance to take the training yet.
The idea of a safe space isn't that you are physically safe, but more of a place where you can feel emotionally safe. Safe spaces can't be a guaranteed physical protection, for example, the Pulse nightclub in Orlando. A mass shooting took place at the gay nightclub, killing 49 people. The attack on this nightclub serves as a reminder that not everyone feels that safe spaces should exist.
That being said, should we have the safe spaces at Tahoma? People do appreciate them, but not everyone can agree with safe spaces. A student could feel that the LGBTQ community is getting too much attention, or a parent might think that the safe spaces aren't necessary. Not everyone can agree with the existence of safe spaces, but they are there to help, not to harm. If the safe spaces are helping the people who feel oppressed, bullied, and discriminated against, then they should be allowed to stay and be implemented a little more in society.