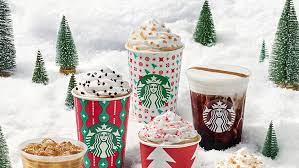 Past holiday menus have ranged from disappointing to fulfilling to your day from each sip, for their slogan on the cup says "That first sip feeling.". This year, satisfied customers are praising the return of the gingerbread syrup, but this time a brand new rendition of the syrup. Acquire one of Starbucks' colorful, festive cups and have it filled with their new Iced Gingerbread Oatmilk Chai, talking from experience, this drink is the portrayal of a cozy winter indoors with a knit blanket and a pure pleasant feeling. Along with the new gingerbread drink, the menu contains four more returning drinks!; The Peppermint Mocha, Caramel Brulee Latte, Chestnut Praline Latte, and Iced Sugar Cookie Almondmilk Latte. Along with the release of the Oleato line (March 23), Starbucks locations that distribute their Oleato line will also be distributing their first-holiday Oleato drink, the new Oleato™ Gingerbread Oatmilk Latte. 
As well as the new beverages on the festive menu, Starbucks is bringing back your favourite holiday treats and pastries consisting of; the Cranberry Bliss Bar, Gingerbread Loaf, Peppermint Brownie Cake Pop, Snowman Cookie, and Sugar Plum Cheese Danish. Additionally to the exciting release, the Starbucks red cups are back with their fresh design! A few treats they're missing this year include the Chocolate Pistachio Swirl and Reindeer Cake Pop. From the rankings on TastingTable, they ranked them at the lowest out of the 11 winter additions from the previous year, and for a good reason, the new treats this year are definitely a level up from the previous year's menu. 
There are many requests from consumers, Avah Sanders, sister of an employee, says; "Any drink with the Gingerbread syrup is goated, no other flavor can match it, the peppermint syrup will never match up.". When I briefly brought up gingerbread versus peppermint, it almost always came to Gingerbread. Many people are excited about the return of the syrup. Avah's sister Sara Sanders, an employee at our local Starbucks, says by far the most popular drink is the Gingerbread Oatmilk Chai, "Absolutely you have to get it hot, iced is good as well, but hot is the way to go." Sanders states.
The Christmas red cup is an iconic symbol associated with the holiday season no matter who you talk to during this holiday season it is destined to come up with that talk of the Starbucks holiday menu, The red cup has become a tradition at Starbucks states Lilah's Gibson she brings up how she "always has to get one no matter where I am I make it a priority it's fun and it's makes it feel more like I'm in the holiday spirit." She also talks about how Each year, Starbucks releases a new design for their red cups, often featuring festive patterns, holiday symbols, or winter-themed artwork so it's always a fun new surprise, The red cups are only available for a limited time during the holiday season, usually starting in November and continuing through December so people will try to collect as many as they can Lilah's brings up the facts how sometimes she feels like she is in a rush against time to get her hands on this cup. Many people like Ms. Gibson enjoy personalizing their red cups by drawing or writing on them adding a bit of their own vibe to the cups, It has become a popular trend on social media, showcasing the creativity of Starbucks customers. Overall Starbucks' holiday menu truly is the best and puts everyone in a holiday mood.