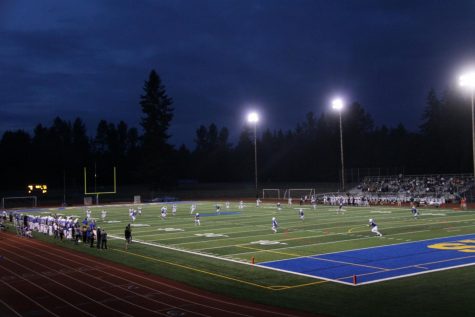 Senior Night
To the kids that dedicated their whole young life to the sport they love, football. Senior night for some kids could be there last time playing with the people they've been to battle with. Senior night is a great way for the seniors to be represented for being in their program for as long as they've been involved.
After we interviewed Kage Reppen, a senior on the football team, and coach Omador we really got the insight of what senior night means to seniors and the coaches on the football team. We can now understand how important the senior night game really is for their football career. 
During the interview we asked Kage, "What makes senior night for Tahoma a special game?" Kage responded with "It's the game that we get recognized as seniors, I believe that it is the most important game of your highschool career because it is your last home game you get to play, for most."
The Tahoma football team definitely showed out for their senior night. Winning 42-20, a show was put on for the fans during the home game. The seniors were a factor for this game as well starting with Kage Repenn scoring 3 touchdowns including a punt return. Bryant Spangler rushed for 120 yards and also scored a touchdown, and Roman Rough threw for 160 yards and rushed for 30. 
Winning this game made senior night unforgettable for some and even more special for the seniors playing. The coaches giving the seniors the best opportunities so they can for the seniors to play well was also seen with a shutout in the first half. The coaches seeing the game go their way was relieving knowing their seniors were going to end this game the best way they could. Talking with coach Omador he made it clear that the coaches try to make an impact on the players during this game when he says, "These guys are gonna remember not just that night but who they're with, and all there buddies they've made over the last 4 years ."
Although this was a special game they are also having a special season. Winning against Federal Way put Tahoma in a great position. They now go on to play Kentridge (1-5) with 3 games left of the season. Tahoma (3-3) now is going into the rest of the season with a chance at winning the league. This would set Tahoma up well in the playoffs in which they would get a bye. With morale now high we can hopefully get into the playoffs with a bye and win the championship game, with bringing home the trophy to represent what Tahoma football is.