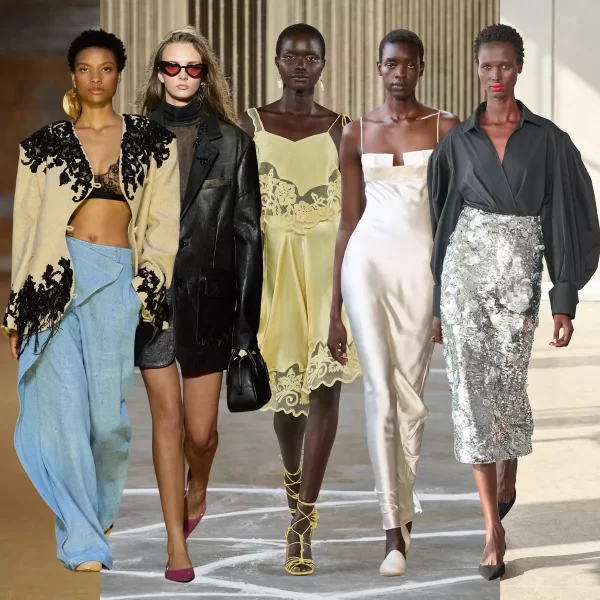 Last month, September 08-13 2023, New York hosted Spring Summer 2024, otherwise known as SS24. This event doesn't just get hosted in New York, but in other places such as Paris, Seoul, Milano, London etc. and there are a lot of things that happened throughout this week to talk about. 
  First off, the same activist crashed 2 different shows, a Peta activist walked the runway both times holding a sign "Coach/Burberry Leather Kills" before getting tackled and kicked out by security. This wasn't very serious but a lot of videos of the woman were posted online and she grew popular on multiple social platforms throughout the week.
 Relating to the crashing of shows, there were multiple influencer runway shows that were crashed by a person in the crowd who was dressed similar to what was on the runway. 
Speaking of runways, Anok Yai and Mona Tougaard are taking over the modeling world as their head to head currently for model of the year. They have the same stats and are pretty similar, but Anoka Yai holds the most popularity right now. 
When the question of, "Anok Yai or Mona Tougaard?" came to play, similar responses popped up. Mrs. Durrett, a fashion design teacher at Tahoma High School, was interviewed and asked about the two models. "I would vote for Anok Yai." Her reasoning followed, "Her skin is gorgeous, her walk is fantastic; on the outside she seems like a great model."
The crashes were also in question, with being a huge runway and fashion lover, Mrs. Durrett was also asked what she thought about the crashes. "My question would be, what do they eat? If it's cow leather, it's a good use of the leather… it's raised for these purposes." Next, asking if she believed this was the right time to do it, "not the place to do it, to me it doesn't make them look good… that said we're talking about it, so maybe they got their point across? But I don't have respect for people that do it that way." 
Samantha Neilsen, a student at Tahoma High school was also asked about these questions. "Definitely Anok Yai, her dedicated walk says it all." She added that she's been seeing Chanel take a turn. "Chanel was known for that fancy, vintage sense, now we don't see much of that." 
New York Fashion week SS24 has left many opinions scattered and futuristic images in our heads. Is the fashion industry taking a turn for the better? What do you think?