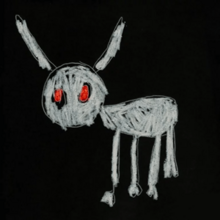 This month, Drake released his eighth studio album, For All The Dogs. This album received a substantial amount of hype prior to its release. However, whether or not the album actually lived up to the hype is the question fans are debating.
Drake's past few albums have not lived up to his previous releases. All three of his past albums prior to the release of For All The Dogs received scores in the low sixes by PitchFork. Once fans saw the features which include artists like J. Cole, SZA, and Bad Bunny, they knew for certain this album would live up to their expectations. It is safe to say the album fell short to many. 
One of the fans interviewed, Andrew Dyk, is a self proclaimed Drake fan who was disappointed with the album.
"I thought the verses were lazy and the production was overwhelming at times," Dyk stated.
"Compared to his other albums, this album would definitely be in the bottom tier."
Dyk definitely speaks for the majority of Drake fans when he says that the album does not compare well to his others. 
The album set out to accomplish way too much and ultimately that was its demise. With a length of 23 songs, running for a little under an hour and a half, the album is very bloated and has a decent amount of filler songs. The lyrics did not have much of an impact on listeners and felt uninspired at times. The album also added to the narrative that Drake gets carried by his features, with features including J. Cole, Yeat, Frank Ocean and SZA, all outdoing Drake on his own songs. 
The release date of the album was delayed two weeks to begin with. The album should have been delayed another 2 weeks or more so that way he could have improved it. 
Overall there are some highlights but way more lowlights. This album did not give the fans what they wanted.