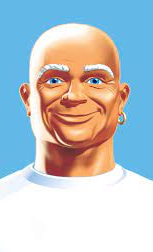 In the deep west of the United States lays cold concrete building filled with books and students that are overly tired, in this compound is a very interesting individual; Mike Seger, this man is filled with wit and the preoccupied desire to make this maze of a building interesting and always fun to his students.
When meeting Seger you'll see a somewhat well built man, bald and somewhat on the shorter side: this striking appearance is not what you'd expect a well wired teacher to use as a costume. However, a meeting with Seger will reveal a man who relishes engaging with his students, capturing their attention, and giving life to his lessons. 
His room: class 305, is obviously on the third floor, however it's worth the 60 feet in elevation hike. His room is filled with flags and interesting little accessories he keeps on his desk, a desk that he hardly sits at during class, he'd much rather be standing and be in front of the class.
Instructing the class as a modern day Napoleon and his class as his unmotivated army that doesn't long to be a football field away from the building.The multiple questions asked by our team of devoted journalists are well worded and knowledgeable in its structure. The questions were meant to challenge educator; however, he answered with the utmost professionalism and kindness.
With each question, he went above and beyond to answer them, answering each with passion as he thoroughly explained his replies. He's truly different from a lot of individuals in the Tahoma association, or at least he stands out with his style of learning, presenting pieces of footage to give a physical aspect to his vision or the on average 10 minute conversations before class; teasing students and answering questions when asked.
One of the most important questions for any teacher is the question: Why? "My "goal with teaching" is to make a positive impact or difference in young people's lives." This alone says everything about this man, the playfulness in his class is extremely present.
Rather than just teaching, and giving students information, he stated that he would prefer to interact with students, guiding them along their passage of learning. The intention to make a positive impact on young lives is a noble pursuit.
The infusion of playfulness in an educational setting not only fosters an environment conducive to learning but also encourages creativity and curiosity. This approach to teaching, where joy and learning are intertwined, can leave a lasting impression on students, shaping their perspectives and their future. It is a testament to a teacher's dedication and passion for nurturing minds.
When asked about how he'd like his legacy to be he answered "I would like to be remembered as someone who showed compassion, was a good listener, and was authentic in my attitude and behavior towards others.  I would also like my legacy to be that I left people's lives better after we met."
A desire to be remembered for compassion, authenticity, and positive influence is indeed a noble aspiration. It speaks volumes about his character. When asked what you wish others would do differently in everyday life?" The response, resonating with profound simplicity, is "LIVE.  I wish others stopped focusing so much on what others thought about them and would live their lives authentically." When individuals to cease their preoccupation with external perceptions, they live their lives with authenticity.
In an age where social and cultural norms often shadow out individual authenticity. Mr. Seger's calls to embrace yourself, and a genuine version of yourself resonate with simplicity, yet genuineness. As expressed by him several times, living authentically is truly fulfilling and accomplishing.
Mike Seger's attitude on education trancents the average and ordinary, personifying a passionate commitment to truly helping his students, not just teaching them the bare minimum. His unconventional teaching methods bring joy and authenticity to the class, leaving a profound legacy and influencing students. Seger will forever remain in history as one of the most unique and authentic teachers to ever step foot in the Tahoma High School building.