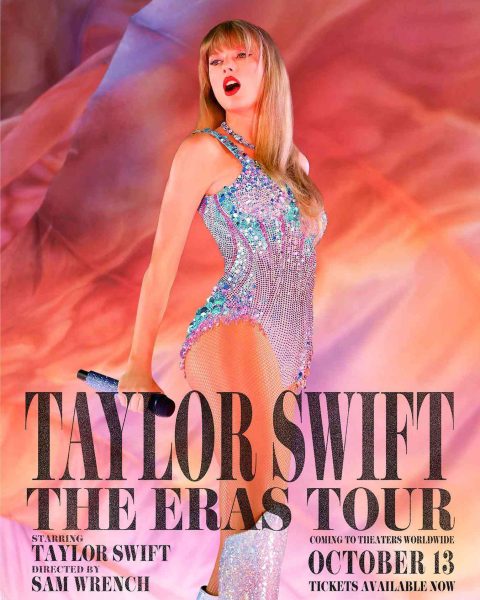 The Eras Tour, performed by Taylor Swift is the highest-grossing concert tour ever and she has decided to bring it to theaters in astounding HD quality for everybody to enjoy. 
The three-and-a-half-hour long show containing 44 songs within nine eras, as well as a surprise song set, has been brought to theaters for only $19.89 per adult ticket!
Being a Swiftie is no requirement for attending the show, but it may be a side effect after you see it. 
Ruby Landry, a junior at Tahoma High School, as well as a proclaimed Swiftie, went to see The Eras Tour Movie this past weekend and had nothing but good things to say about her experience. 
When asked what made Landry want to see the movie, she responded by explaining that she "wanted to see the Eras Tour Movie because I really like Taylor Swift, and I went to the Eras Tour, and I wanted to relive it because it was so fun."
Post-concert depression is definitely a real thing, so when thousands of fans are able to relive the most exciting concert of the year, it is nothing short of another special experience for them. 
Landry exclaims that her favorite part about seeing the film was, "being able to be in a room full of Swifties and getting to sing all the songs" 
Just like the actual concert, these theaters are holding lots of Swifties looking forward to having a great time spent with people who share the same love for Taylor Swift and her music. 
"Watching the movie made me feel happy," Landry shares when asked about how seeing the film made her feel. "It was similar to the concert and you also got to see the concert in a different way." 
When you go from being up in the nosebleeds for one show, to having an almost front-row experience when seeing it on the big screen, it's as if you were watching the concert all over again with a fresh pair of eyes. 
Landry mentions that she, "would definitely recommend this movie to Swifties, and I would say that for non-Swifties, at least people that don't hate Taylor Swift, it could be worth their time, especially if they like some Taylor Swift songs." 
As long as you know Taylor's most popular songs, The Eras Tour film would not be a waste of time or money for you. 
Nonetheless, it would not be a bad idea to check out your local movie theaters for the availability of seats to go see The Eras Tour movie before it's too late.