Inclusivity Through The Maple Valley Farmer's Market
The Maple Valley Farmers Market was founded in 2009. This farmers market was created to help bring people together and give more opportunities to those small businesses that surround our community. Every Saturday from May 6 to October 28 people can attend the local event. This is a very popular place to gather with friends and family. Kelly from Our Hive, a cold-pressed juice small business, has been partnering with the MVFM for three years now and she especially loves the people, animals, music, and food at the Farmers Market. Something that almost everyone in this community has in common is the thirst for being around people and experiencing and that is what the farmers market is all about, bringing the people in our community together through food, and entertainment, and supporting small businesses that have become widespread in our community. 
Small businesses continue to need recognition; multiple business continue to re-build after Covid. Owners work tirelessly to support themselves, from waking up at 5am to set up their booths for the market, they are the backbone to making this market successful. The MVFM has a mission to be as inclusive as possible. There are over 100 vendors that come to this farmers market. During the kick of this market season, we interviewed two vendors that are regulars at this market.
The first business we decided to interview is this small black owned business named Sizan who have been selling their products at the farmers market for four years now. They specialize in skin care products for all different skin types. Rue has been in the beauty industry for quite some time now and after being in the industry she realized that the products these beauty chains were selling she could do better, she started with making products just for her family until her 10-year-old daughter suggested that her products were too amazing not to be sold to the public. Rue has products such as body butters, glow oil, body scrubs, lip balms, and much more to come. So, make sure to go check her booth out the next time you go to the market!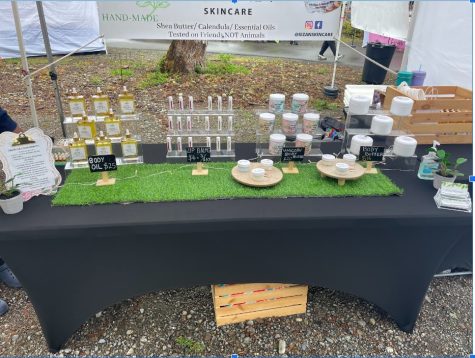 We had the pleasure of interviewing the owner Rue who explained why her business is so important to her and how the farmers market helps grow her business. We asked Rue what the Maple Valley community is like for her and how it has benefited her business, she then said the community is really great and has had the opportunity to meet so many amazing people, for relationships with the people in the community. We then asked why she chose the maple valley farmers market she stated, "It is close to my home since I live here in Maple Valley, she wants to share her products with this community because it is her community, and she gets to bring her family here and her daughter gets to also meet new people.". 
Another business that has been gaining popularity is Our Hive, it is a small mother and daughter business. I had the opportunity to interview Kelley, the owner of the business. They first started out selling their popular oat bites and then expanded at the market by selling their cold-pressed juice. Kelley enjoys the atmosphere of the Farmers Market; she likes that her business is supported and that she also contributes to the success of the Farmer Market. "They support small businesses; they definitely push us all through and they're very well-rounded. And they've always supported us because we support them." She chose the Maple Valley Farmers Market because during the pandemic, MVFM was the only place giving new vendors a chance to showcase their products. "This community is phenomenal, we're attached to neighborhoods through trails, everybody comes from everywhere, it's a really good unit.". Check out more about Our Hive here: https://www.ourhivefamily.com/ 
Shopping at the farmers market helps grow our community and supports the small business within the Maple valley community and let's not forget it's a fun activity to do on a Saturday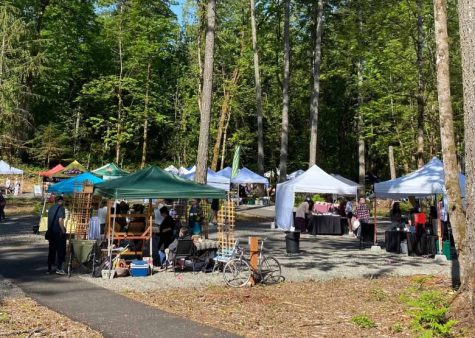 , so whenever you're looking for something to do on a Saturday come down to the farmers' market!