Change Needs to Happen Now
We simply can do more to be the voice for those we have lost to police brutality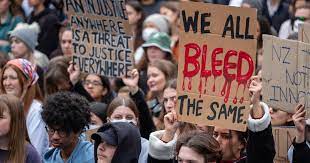 Shocking news, another black man has died at the hands of law enforcement. But it's not really shocking at this point, society has become so desensitized that they simply just repost a generic post and go about their business. 
Keenan Anderson, a 31- year old African American male was murdered on Jan 3, 2023 by LAPD while visiting family. He was restrained for 4 and a half hours before being tased to death. He was a 10th grade English teacher at Digital Pioneers Academy in Washington DC. He was also a father to a 6-year old boy and the cousin of Black Lives Matter co-founder, Patrisse Cullors. 
The media was quick to make posts expressing their outrage, only three days into the new year and they have murdered yet another UNARMED person of color. The news died down only a week or two after Keenan was murdered. 
And it's not only white officers doing this, Tyree Nichols was murdered by five Black officers on January 7, 2023 only a few days after Anderson. The problem is not with white officers but with the entire system. And there is little to no change being made to fix this dilemma. Simply placing officers on leave or arresting them means nothing. Those families will forever live with the pain of knowing that their family members' lives were stolen by another person. 
"Blacks between the ages of 10 and 43 die of a homicide at 13 times the rate of whites" according to the CDC. 
Some people like to argue that it's not entirely the polices' fault, to be at the right place at the right time and comply with the officer. Except black people get murdered for simply sitting in the comfort of their own living room- say her name; Breonna Taylor. 
They get killed for doing regular things like going on a run- say his name; Ahmaud Arbery
Even children get killed for walking- say his name; Trayvon Martin
How is it that black people can do the same things white people do but still get shot and killed for it. How can we continue to be under the knees of Derick Chauvin, the officer that killed George Floyd. And it's us killing each other too. Structural racism is a BIG problem and it's costing people of color their lives. 
We need to start asking these questions to help slowly fix these problems:
Why is it taking so long for you to charge these officers? 
How is it that these officers are returning to work?
What reforms could change police accountability?
And we need to do this to enforce change:
Making PUBLIC complaints about officers use of force
Using more non-police organizations to respond to emergency calls
Demilitarize officers 
It's sad that we even have to do this just so people of color can live without being killed. But don't let Keenan and Tyree's deaths be in vain, they can be the key to unlocking the door of real change happening in police brutality. Let our voices ring as an echo, let us be loud for all the people we have lost due to police brutality since they no longer can.