A Quest For A Perfect Winter Musical: The Lightning Thief
Journey into the magical world of the Greek Gods as we sit down with some of the cast and crew of the winter musical The Lightning Thief!
Last weekend the winter musical The Lightning Thief: The Percy Jackson Musical closed after a successful two weekends of amazing shows. Tahoma Drama has done The Play That Goes Wrong and will close out the season with the High School debut of The Clockmaker's Daughter. 
I sat down with some of the actors and crew members as well as audience members to ask about their experience with Tahoma Drama and share some fun memories and insights from the Lightning Thief and past shows! 
Tayte Erickson, who played the title character Percy, says that he was drawn to the theater because "originally it was my cousin who played lead roles at the Village Theater in Issaquah, and I just thought it looked fun and I wanted to partake in that because she looked like she was having fun. Then I did some Missoula productions, but that's not where I really fell in love with it. It was Tarzan at Tahoma High School. I was in sixth grade, I auditioned for Young Tarzan, one of the kids roles, and I got the part! That's also where I met my current best friend Josh Miller and some other friends that I still have to this day. That's where I truly fell in love with the theater." 
"My favorite role I've played is probably Billy Cane in Bright Star, the winter production of my sophomore year. It was just a really fun character to play and I had a great time in that production so that's probably why it was my favorite…It was just a great time and a fun character that wasn't too difficult so I didn't have to focus too much on it. It had some cool harmonies and duets and I got to act with my friends." Says Tayte.
Tayte's longtime friend and fellow actor Francesca Huser, who played Clarisse La Rue said that "I've always been on the stage, I mean I was a dancer before I was in theater. I was at a point in my life where I didn't want to continue dance and Tayte Erickson over here was like 'hey you should audition for theater' and I was like 'sure i'll try it out' so I did Anastasia and I loved it, so now we're still doing it." 
"I think my favorite memory from the show was our first full run through. It was definitely a time because we have had a lot of ups and downs, unlucky situations in the show but having everyone come together and put on a good production and kind of become a family was a really great experience, especially for a winter musical." Francesca continues. 
The sets, props, and costumes are key to the success of a production. Madi Vaskelis, a freshman at Tahoma, worked on the costume crew for The Lightning Thief. "I always wanted to do crew because I've always done ballet, so I've always performed on stage. I wanted to try doing a backstage experience and I love sewing and making costumes, so that's why I signed up…I was on the costume crew and my main responsibility was the centaur butt."
"I had one costume the whole time. I had a little twelve year old boy hoodie that was really baggy on me…My favorite prop would be my sword because it's extendable, it's really cool. It would just collapse and I would just whip it out of my pocket and slash it forward and it would extend to a full sword. It was awesome." Says Tayte.
"My favorite accessory would actually be my bandana, my red bandana. It was just a powerful girl boss moment that she had. A little piece of red on her head for her mom but also to show that she is the leader of the cabin. And I had a piece of one of my best friends with me, it was really great to have that moment." Francesca adds.
"The best way to get involved with the crew is to follow the Instagram and then also make sure that you have Facebook so that if you do sign up for the crew, on Facebook you can get all of the announcements on it." Madi explains.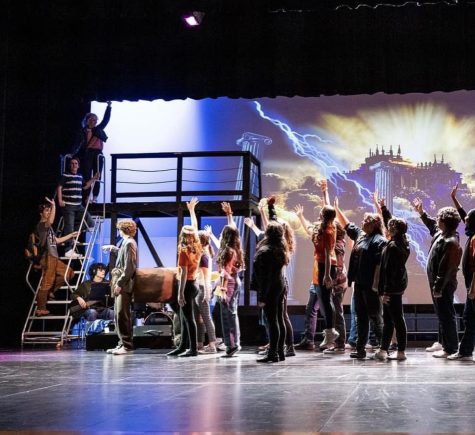 For the Lightning Thief though, it took more than just costumes to make the magic happen. This production called for the actors to fly multiple times throughout the show. This meant an entirely separate backstage crew was needed in order to make the flying rigs work and ensure the actors stay safe while in the air.
Brenna Billings is a senior at Tahoma and was a part of the backstage crew. "I ended up on the crew because I enjoy being a part of the shows but don't love being on stage. I also knew I'd have some down time in January, so it seemed like a fun way to fill the time. I was on fly crew! I was in charge of checking actors' harnesses before show and during intermission, clipping actors in and out during shows, and most importantly safely flying them through the air. I was a traveler, so I moved them left and right." 
As for the actors it was a learning curve for some and a review for others. Francesca shares that "This was my first time using a harness. I thought it would be scary, but it really wasn't, it's more or less just uncomfortable. But, it looks super cool and it was a really cool experience to be able to do that." 
"This was not my first time using a flying harness. I did it before in Tarzan, my first show, where we used a single rope instead of the double we use now, which lifts you up. You sit into it like a zipline. We used it like vines in Tarzan. It was really awesome." Tayte says.
Attendees seemed to be raving about the show. Myla Fox, a senior said "I have a lot of friends in the cast and crew and I wanted to go to support them, and Tahoma has a good drama program. The shows are always fantastic…I've seen every single show throughout my four years…My favorite song was Clarisse's song [Put You In Your Place] because she's [Francesca] really good and she has the voice of an angel, a powerhouse if you will." 
Julia Tomich, a junior said that "I wanted to go see all of my friends. I saw Mama Mia, Bright Star, I've seen all of the shows from this year and a couple from last year. My favorite character was Clarisse because Francesca played her and the song was so good, so was the fight scene. My favorite song was the one that she sang, I don't remember what it was called."

Scarlett Sauceda, a sophomore, agreed, stating "Lots of my friends were in it and I wanted to be supportive. I saw Anastasia and Bright Star. Grover was my favorite character because he was really funny. My favorite song was Good Kid because I think it's a relatable song."
The Clockmaker's Daughter opens in May, so if you missed The Lightning Thief, make sure you come out and support the Drama Club.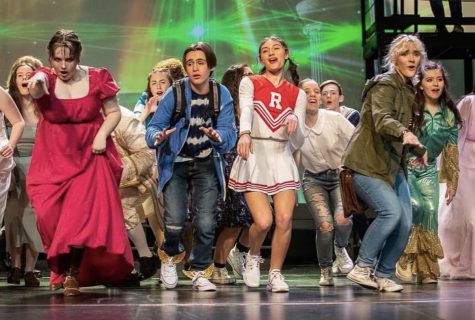 BONUS INTERVIEW QUESTIONS:
Did you ever have a Percy Jackson phase?
Tayte: "Yes most definitely. Honestly it was probably sixth grade which is like the age the middle schoolers who came to see the show were. I read all of the Percy Jackson books and the sequel series Heroes of Olympus multiple times."
Francesca: "I was an avid reader when I was younger, still am now. I definitely had a Percy Jackson phase. I think I was probably ten, I think fourth grade. I got into the Percy Jackson books."
Myla: "I did not. I've never read the books. I've never seen the movies. There are movies, right? I've been meaning to."
Scarlett: "Yes, in third grade."
What Character Best Fits Your Personality?
Tayte: "Probably Luke. I feel like he's smart and just independent but also cares about others in his own way."
Francesca: "I would honestly say, probably Annabeth. Just because I feel like I am very ambitious and I want to prove myself and she is also very brave and cunning and doesn't take anything from men, you know."
What was your favorite song in the show?
Tayte: "Drive. Good tune, very catchy. Just a cool song and it had a nice chorus and cool harmonies. It's just a fun song!"
Francesca: "Probably DOA because it was a nice experience to be able to choreograph some of it and kind of have that showstopping piece that you know that the audience is really going to like"
What was your favorite line that your character said?
Tayte: "I don't know…One of the more funnier moments, I guess, was when Annabeth says this pit is Tartarus and I just say like the fish sauce? Fun joke."
Francesca: "Probably right before her song she says prepare to be pulverized newbie. She's just being the bully and it kind of sets up her character for the rest of the show, it's kind of like her little showstopper moment, which she deserves."