Seattle occupies Duwamish land. Who are they?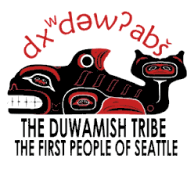 Seattle's host tribe, the Duwamish, or Dxʷdəwʔabš as they are known in their native language, encompass an important and all too often overlooked history. The city of Seattle occupies land the Duwamish have lived in harmony with for thousands of years. 
More than 12000 years ago, ancestors of today's Indigenous Americans arrived in North America from Siberia. Ancestors of today's tribes found in Western Washington– Duwamish, Nisqually, Muckleshoot, and Snoqualmie– entered the region as the last Ice Age was ending. 
Conservative estimates place the precolonial Native population in the tens of thousands in the Puget Sound area alone. 
As colonialism expanded westward across the continental United States in the 19th century, so did a legacy of broken promises.
In 1855, Chief Si'ahl of the Duwamish Tribe signed the Treaty of Point Elliot, turning over 54,000 acres of their homeland to the United States government. Today, that land comprises cities we are familiar with such as Seattle, Bellevue, Tukwila, Mercer Island, and other parts of King County. 
Immigrants soon violated the treaty in 1855, instigating the 3-year Indian War. During the war, Chief Si'ahl helped protect a group of European-Americans, thus establishing the city of Seattle. 
The Duwamish have proudly advocated for self-determination throughout history, detailed by their official website ( duwamishtribe.org.).
Currently, the Duwamish Tribe is headed by a 6 member tribal council and their own constitution, created in 1925.
The Duwamish tribe currently faces an ongoing battle for federal recognition, which would provide tribe members with benefits such as land and healthcare. 
Duwamish Tribal Services– a 501(c)(3) organization– was established to serve the tribal community by promoting "the social, cultural and economic survival of the Duwamish Tribe", according to duwamishtribe.org.
Without federal recognition and funding, DTS has toiled to provide the aforementioned services. 
Consider signing this petition to support the Duwamish Peoples' fight for recognition, and visit here to learn more and donate. 
Another way Seattle citizens, businesses and institutions can support the Duwamish Tribe is to construct a land acknowledgement. 
The Duwamish Tribe's website provides an example: "I would like to acknowledge that we are on the traditional land of the first people of Seattle, the Duwamish People past and present and honor with gratitude the land itself and the Duwamish Tribe."
"Land acknowledgement is a traditional custom dating back centuries for many Native communities and nations. For non-Indigenous communities, land acknowledgement is a powerful way of showing respect and honoring the Indigenous Peoples of the land on which we work and live." duwamishtribe.org.
Sources
https://www.duwamishtribe.org/treaty-of-point-elliott#.
https://www.historylink.org/File/1506
https://www.columbian.com/news/2022/may/12/duwamish-tribe-sues-again-for-federal-recognition/
https://www.npr.org/2022/03/06/1083221946/duwamish-tribe–federal-recognition