Glass Onion: A Knives Out Mystery With A Mysterious Story
Netflix's Glass Onion: A Knives Out Story is out Friday for all Netflix subscribers. But the mysterious release of the movie may have doomed it from the start
In 2019, the world was introduced to the cinematic universe of Knives Out, a clue style mystery that took box offices by storm and was on the top of everyone's best movie list. After the monster hit that was the first movie, Netflix quickly snapped up the rights to the film and turned it into a franchise, announcing 3 more sequels. If you enjoyed the first one or are searching for something to entertain you during winter break Look no further because The Glass Onion: A Knives Out Mystery is finally here! The sequel is available to all Netflix users starting Friday.
The original Knives Out, directed by Rian Johnson, came to theaters Thanksgiving 2019. It's absolutely star-studded cast caught the eyes of viewers and critics, despite not knowing much of the story. The first film stars Daniel Craig as Benoit Blanc, a southern detective known for his unconventional ways of solving cases. Alongside Craig came Ana De Armas who played Marta, a nurse for the family who finds herself tangled in the crime. Stepping aside from Marvel, Chris Evans appeared as Ransom Drysdale, the estranged nephew. The cast also includes Christopher Plummer, Jamie Lee Curtis, Toni Collette, Michael Shannon, Don Johnson, Jayden Martell, and Katherine Langford. All gave stellar performances in a beautifully shot and edited film. The story follows the dysfunctional Thrombey family after the unfortunately mysterious passing of Harlan Thrombey (Christopher Plummer). His nurse Marta (Ana De Armas) finds herself immersed in the crime as she assists world renowned detective Benoit Blanc (Daniel Craig) in solving the case. Knives out was nominated for 14 academy awards, including Best Motion Picture, but unfortunately lost in most categories. Its traditional theatrical release made it a total of 312 million dollars in total, making it one of the most successful movies in that year.
Fans were ecstatic at the news that Netflix had bought the rights to the original and announced 3 more movies. At that time, and to this day only Glass Onion's title was announced, the rest remain untitled. Daniel Craig reprises his role as Benoit Blanc in a new story, separate from the original movie, earning the film its name of Glass Onion: A Knives Out Mystery. The film stands out by taking place during COVID and plays into the idea of masks in a tastefully funny way. Glass Onion is set on billionaire Miles Bron's (Edward Norton) secluded Greek island where he invites all of his friends on a weekend getaway to play his famous annual murder mystery game. One member of the party winds up dead, leaving Benoit Blanc (Daniel Craig) to realize why he was invited to the game in the first place. Its up to him to lockdown the island and find the culprit in this new whodunnit mystery.
Following in the first films footsteps, Netflix stacked the movie with an all-star cast. Daniel Craig is the only returning member, purposefully separating the sequel from the original. The cast stars Kate Hudson, Edward Norton, Kathryn Hahn, Janelle Monae, Dave Bautista, Leslie Odom Jr., Madelyn Cline, and Jessica Henwick. Glass Onion was released on Thanksgiving into theaters, something that Netflix has never done before. Glass Onion and Matilda will be the first Netflix films ever released into theaters. The film had a 7-day exclusive debut in theaters worldwide before being taken out and forcing fans to wait a month until December 23rd. In those 7 days, it made a disappointing 15 million dollars, leaving everyone wondering, did Netflix set the film up to fail?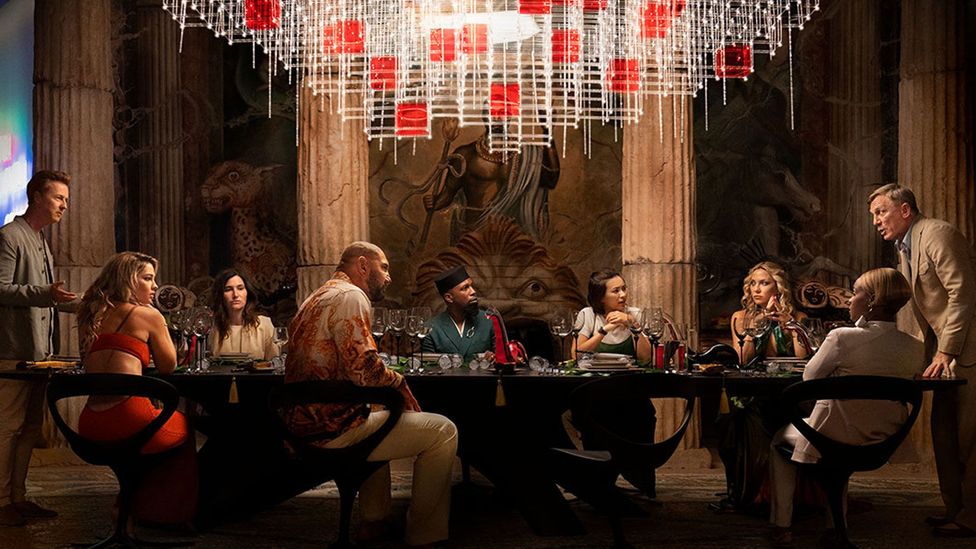 During the 2020 lockdown, most films with scheduled releases either postponed their debuts or found their way onto streaming platforms such as Disney+ and HBOMax. Disney and HBO found that on top of their monthly fee, they could charge an additional twenty dollars for "premiere access" to films such as Cruella, Black Widow, and Shang Chi. Even when theaters started opening up again, the streaming services continued this path, releasing films into the theater and onto premiere access, then after its normal theatrical run would be done, they would remove it or make it free for all to enjoy. A lot of viewers stopped going to the theaters because they could enjoy new films from the comfort of their covid-free couch at half the cost. Seems great! Wrong. This dramatically hurt the theater industry as well as companies like Disney and HBO who were losing money and breaching contracts. Scarlett Johansson sued Disney over a breach of contract, claiming that she was told her solo movie, Black Widow would be a theatrical release only since is came out later in the pandemic when theaters were open. The movie didn't do as well and was deemed a box office flop. She didn't make nearly as much money from the box office release and made no money from the premiere access because Disney failed to write that into her contract.
Glass Onion seemed as if it was doomed to fail from the start. Netflix released it into a select 700 theaters nationwide, bringing in a whopping $13 million on opening weekend. Peanuts, compared to the first movies successful $41 million. Experts are claiming that if Netflix had released it into all 3,100 theaters in America, it would have equaled or slightly surpassed that number. In the last few years, Netflix has seen a drop in subscribers and success stories. Only a few have managed to Wow viewers lately such as Stranger Things. The company keeps very close to their chest, but they haven't done as well financially since the birth of more streaming services like Paramount+ and Peacock. Plus, many of these platforms are reclaiming popular titles like Friends and The Office, causing people to leave Netflix behind. The text reading "On Netflix December 23rd" is significantly larger than the subtext promoting the one-week theatrical release. It was a decision that's leaving fans wondering if why Netflix released what could've been a hit, the way they did.
Netflix's Glass Onion: A Knives Out Mystery is on Netflix this Friday, December 23rd