'Hairspray' (2007) Review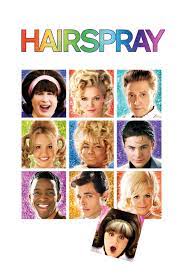 Adam Shakeman's head bouncing', feel good, Hairspray remake took its time changing the industry of film. The fan culture around this movie left a mark on musical film adaptations forever.  1960's roaring Baltimore had Tracy in her own world. From waking up in song, stirring up a dance in detention to fighting for rights against racial segregation- Tracy has got our hearts. "Bright, campy and wonderfully light, Hairspray reminds us that fun comes in all shapes and sizes. It's also one of the few 'event' movies this summer that doesn't outstay its welcome. That's worth singing about, no matter what your name is." This movie captivates all the feel goods and strengthens our own definitions of our past. 
Directed by Adam Shakeman, this movie has got to be my favorite film. As a child we played this in the vans cd player. The dancing, the wardrobe, and the character characteristics made me see a whole new world of entertainment. Hairspray soundtrack won a Teen Choice award. Personal favorites of mine would be between, 'I can hear the bells,' and 'I know where i've been'.  The film angels and emotional intensity elevates the meaning of this work as a whole. One of the songs from the soundtrack is called 'mamma im a big girl'. This was missing from the film itself. I think the cast and leads leaving this song out of the movie was a major downgrade. This song adds so much dynamic and personality to the meaning as a whole. We get mamma welcome to the sixties and it does a great job of introducing femininity but "mamma im a big girl now' lets the audience into the secret world of teen girls. The moms join in and the perspective and dancing ties in a whole new mood. 
The wardrobe dynamically changes everything. Costume director Rita Ryak uses elements and principles of design to create a whole new story. LOVE the combinations!! The creative freedom with complementing colors is so abstract! The attention is drawn directly to the outfits. Miss Maybelle Can mix the occasion with her wardrobe creation. Complementing colors can be worn formal and informal! Makes a piece heavy so sometimes it is easier to wear a simple shoe and hair. Amber´s outfits unify to create a fashion piece where colors display her character's attitude to be portrayed as a nice girl. The ties and shoes all engage together well. As dancing maintained a staple in this film The lines on dresses attract viewers eyes downward to the poof of each dress. This was a direct plant for viewers to look down to feet where dancing was shown off. This lengthened viewing time and created many opportunities for halloween costumes.