First ever Black Student Union at THS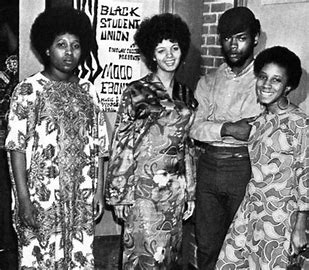 This year Tahoma High School has established its first Black student union led by co-presidents Kaycee who is a 16-year-old junior at THS involved in multiple clubs. The other co-president Hewan is a 17-year-old senior at THS who is also involved in different clubs and other extracurricular activities.
At the very first Black Student Union meeting held on September 29th, 2022, Hewan explained how having a BSU at our school is very important to her as finding a community who have lived similar experiences and has shared ideas since that is always something she has been looking for. As far as Kaycee goes, she also explained she really wanted to have a BSU at our school because she was surprised there wasn't one already. She also wanted to help strengthen the small percentage of African American students at Tahoma.
Also at the very first meeting, both co-presidents had explained the purpose of having a BSU which stated "Black Student Union is a club dedicated to building community, relationships, and increased understanding. BSU is meant to be a safe space for all its members. Our key goals are to provide cultural enrichment, advocate for issues harming the Black community, and serve as a support system aiding in ways that would uplift our community" I think this is something that everyone in that room could agree with.
Some last little takeaways I got from the first meeting were that for one there were some icebreakers to get everyone involved and made sure that you got to know a little but about everyone in the room there was also some conversation about something that we would like to do for Tahoma and some group norms, oh and of course, we can't forget the snacks!
I believe that the first meeting was a really great experience although, personally I felt that some people were there for the wrong reasons, unlike people I know who were generally there to be a part of something important and wanted to hear what the girls who were running this operation were going to say. So, I do believe that anyone who is of the African American culture should join this club but if you do, I sincerely hope it's for the right reasons.
It is so important to have a Black Student union not only to have people in your own culture that you can connect with but also to make sure your voice is heard, In my experience being a person of color at Tahoma is not easy but when you have people you can talk to who are feeling the same it can really help you feel like you belong so if you are an African American or a person of color I encourage you to join the Black Student union because it's a great experience, you can meet new people, and have a voice.
In conclusion, if you have read this article and it has convinced you that you would like to join, please join the google classroom with the code y553hfx and come to the next meeting on October 27th powerhour B in room 109.