What is Tahoma Robotics?
What is Tahoma Robotics? This was a tricky question to answer until I met the head of the robotics team, Darren Collins. Mr. Collins gave me great information about their activities and how the club works, so here is what I learned:
When describing the club, Mr. Collins noted:
"Well, the club is based around competition. We participate in the FIRST Robotics competition, and each January, our team is given a challenge, and teams around the world are given the same challenge. We get about two months to build a robot, and then we go and compete with this robot both locally and within the region and then worldwide."
Notable highlights from the interview included the following:
Question 1 – What are the different aspects of the club?
Answer – "We have students on the team who work on the design of the robot, which we do in computer-aided design. We have students who do manufacturing, they make the parts that are designed. We have students that do the assembly and electronics programming. We also have a media crew that just does video and all of our social media. And we also have a business part of our team that works on getting funds and grants and the outreach here. We also have a leadership group aspect that manages the students on the team. We have numerous adult mentors that support us in technical and nontechnical areas. And then we also have things that we do outreach-wise. So, we have an outreach group that does presentations to local groups, elementary schools, middle schools, and the rotary. Sometimes, we do business presentations. We even did things like Boeing Days and Seafair. So yeah, there's a lot going on."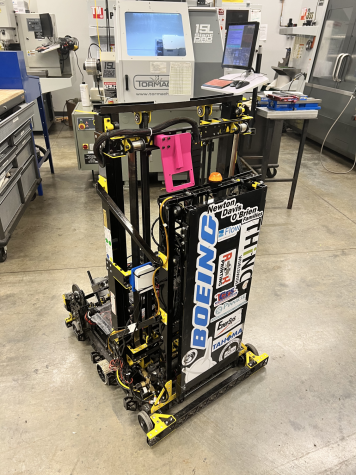 Question 2 – What kind of robots do you guys build?
Answer – "Well, we build robots specific for the FIRST Robotics competition. And every year the challenge is different. The robots usually are around 120 to 150 pounds, and they can sometimes range between three feet and five feet tall. Sometimes we have shooting robots, sometimes we have robots that have to pick something up and place it in a given location. Sometimes they have to climb things, whether it's large steps or pulling up on like bars or things like that, sometimes balancing on platforms, etc. They are all on wheels. There are no walking robots, they only drive around."
Question 3 – What competitions do you compete in and what teams do you play against?
Answer – "So, we are part of the Pacific Northwest District, which comprises 130ish teams. It varies a little bit from year to year, but I think we're right around 130 teams in Washington, Oregon, and there's one team actually in Alaska, and so that comprises the Pacific Northwest District. We go to competitions in March and April competing at local district events with about 30 to 40 other teams. The top 50 teams out of the Pacific Northwest compete at a Pacific Northwest District Championship, and then the top teams from there go to the World Championship, where there are about 30 countries representing 500 teams. And this year as well as in the last few years, it has been in Houston, Texas."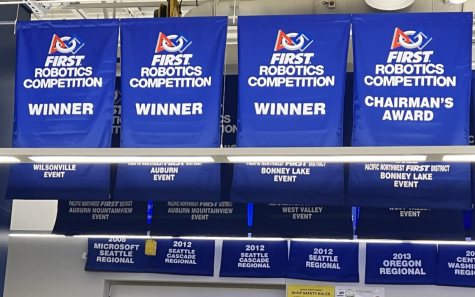 Question 4 – Has the club won any competitions in the past?
Answer – "Yes, we have. Last year, we were at three district events that we attended, and we won all of them. We got second at the Pacific Northwest Championship and then in Houston, we didn't win or get second, but we were in the elimination round the year before and the year before that. In 2020 and 2021, we didn't compete due to COVID. But in 2019, we won two of our local events. We ranked first and won the Pacific Northwest District event/the district championship. And in Houston and our subdivision, we won as well. And then going back, our first event win was in 2008, which was our second year as a team here at Tahoma."
Question 5 – Are you still accepting any students to join?
Answer – "Not this year. Not this year. We have about 70 prospective members right now. We have 40 returning members. We decide on our final team for the 2023 season in November."
With that, if you want to join the club next year for the 2023-2024 school year, you can! If you want to take a look at the team and get more information, they have a website: tahomarobotics.org, Facebook (https://www.facebook.com/bearmetalboosters/), and Twitter (https://twitter.com/frc2046).