2022 Graduation – Duty's Last Year
Congratulations to the class of 2022! The 2022 Tahoma High School Seniors have officially graduated. This past Tuesday, June 14th, the class of 2022 gathered together one last time at the Showare Center in Kent for their long awaited graduation ceremony. This was in fact the first full graduation ceremony that Tahoma has had since 2019.
After COVID sent everyone into a quarantine resulting in drive-by graduations for both the 2020 and 2021 seniors, the class of 2022 was finally able to have the first graduation back with their friends and family all together in one place. Through difficult times, the seniors persevered and finally made it to the moment they have been waiting for. From their sophomore year getting cut short, to their junior year being completely online, they never gave up and Tuesday's graduation truly expressed that.
Not only were the seniors throwing their caps into the air, but principal Mr. Duty was as well. Mr. Duty announced earlier this year that he will be retiring from his position as principal at Tahoma High School after the 2021-2022 school year. He gave a few speeches at graduation to honor his last times at the school and talked about how he was honored to leave alongside the class of 2022. After giving a final "Go Bears" to the crowd, he revealed that he too was wearing a blue gown to show that he was also graduating from his position in Tahoma that night.
With that being said, this was the last time most teachers could say goodbye to their students. Many teachers were there to talk and give hugs to all the graduates.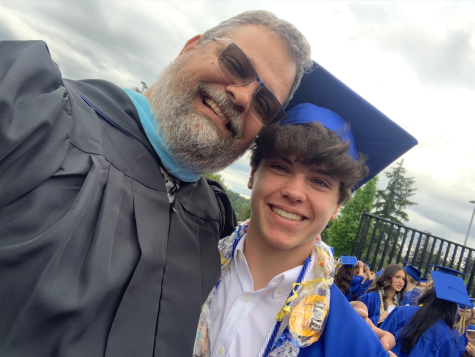 The last aspect to graduation was the After Party. Tons of graduates signed up to go on a trip to multiple locations that nobody knew. The first location was Dave and Busters and it was rented out to only Tahoma students for 3 hours. Everyone had plenty of games to play and a buffet to keep them occupied.
Afterwards the seniors were taken to The Hard Rock Café in downtown Seattle where there was tons of music playing and lots of kids jumping in the middle; as well as a magician hypnotizing people. It even got to the point where people got out of their seats looking for their belly buttons. After talking to one of the girls after, she said she didn't remember anything from the hour and a half long show.
We made it. Congratulations graduates and congratulations to Principal Duty for 38 years of service to educating students.
Go Bears!