A Swashbuckling Success!
Haunted Drive Through to benefit the middle school PTA, the Maple Valley Food Bank, and St. Jude's Children's Hospital was a success!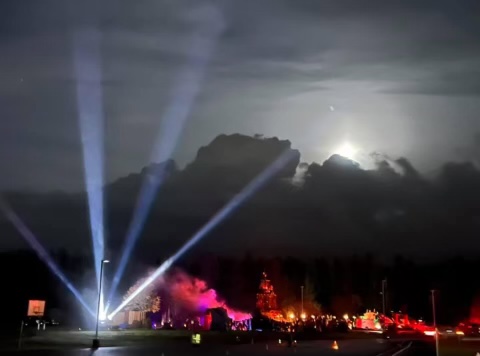 Maple Valley's annual Halloween Pirate Ship Drive Through was a monster mashing hit this year! Following last year's impressive totals, the drive thru collected 3,658 pounds of food and 7,740 dollars raised for the TMSTPTA and 2,560 dollars for St Jude's Children's Hospital. All food donations will go to the Maple Valley Food Banks in hope to support families in need this coming holiday season! The Knudsen family, the McCracken family, Home Depot, and the PTA knocked it out of the park this year once again!
With new features added to the pirate ship and the new addition of the Disneyland's Haunted Mansion, the drive through was enormous compared to last year!
The McCracken family brought their A-game with all new attractions such as the iconic haunted mansion stretching room paintings, the hatbox ghost, Madame Leota, Constance the ghost bride, singing busts, and even a ghostly organ player!
According to Mr. McCracken, he's the only person other than the Disney company itself to have accurate copies of the singing busts. Which he had done all on his own through 3-D printing.
Plans are already in place to keep this tradition going for years to come. It's even in talks that there will be even more great decorations and attractions next year!  It's safe to say that in the coming years the annual pirate ship drive through will be continually getting better year after year!
If you didn't get the chance to make your way to the mansion, check out the photos below for a peek at some of the happy haunts that helped make sure the drive through was a huge success!