Girls swim and dive
On Saturday, Oct. 30th, Tahoma girls swim and dive made a splash at 4a Districts. These girls made history by scoring 90 points over the other teams participatingto win the title for the first time in the history of THS.
Amiah Jared,  a senior on the varsity team is a captain whose events are 200 IM and the 500 freestyle. Amiah has been a member of the team for 3 years, "I missed the first season… After my sophomore season, I had to keep coming back, I couldn't stay away."
But what is the 200 IM? "It's 8 laps, two of each stroke in a specific order. so first butterfly and then backstroke then breaststroke then its freestyle." Which is taxing mentally and physically. It's about precision, being exact with your movements, and making sure you are performing at your best. "You have to do things right, if you turn wrong or something you can get disqualified and your time doesn't count," described Amiah.
Despite how intense this sport is, the team is some of the most interconnected and caring girls I have ever met."It's so supportive that's the number one thing. I've never been part of a greater group of girls," Amiah said after a very long and detailed speech about how proud she is of her teammates "relays are some of the fastest in the state right now." But swim and dive isn't the only thing the girls have going on for them, our swim team has the highest percentage of team members with a 4.0 and the least absences/ tardies of other teams at Tahoma.
"The next step is the seven girls going to state, where we'll compete… We can't have spectators but it will be live-streamed." These girls have been working as hard as possible to get to this point, and we're all very proud of them. "This team has been undefeated for a very long time and they're going to continue working very hard and continuing to represent Tahoma."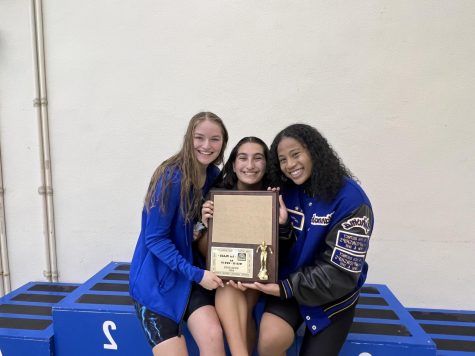 From left to right, Captains Hannah Weissman and Amiah Jared, and senior Hailey Sears holding the District Champions plaque.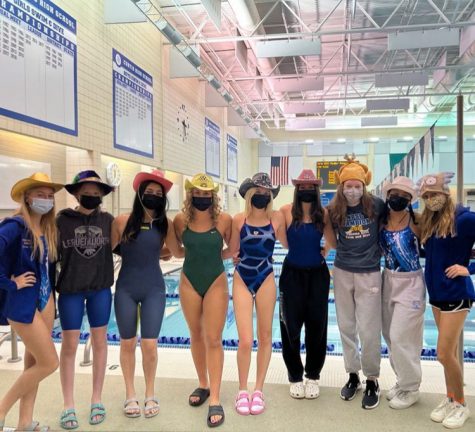 District finalists! From left to right: sophomore Sierra Sears, Sophomore Tamar Ramussen, sophomore Sophie Artemdize, junior Makenna Portman, junior Lea Hagen, junior Karis Conklin, junior Emma Schlutt, senior and captain Hannah Weissman, and sophomore Elena Warner. Not pictured: freshmen Elayne Chen, senior Hailey Sears, sophomore Rowan Gual, junior Riah Heil, sophomore Nora Jose, freshmen diver Addie Brestle, senior diver Katie Welsh, senior and captain Amiah Jared, senior and captain Aliayah Nesru, and coaches.