TIME IS RUNNING OUT. . .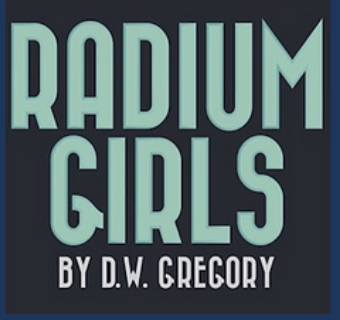 With almost two and a half years of not being able to see friends or go out, the impact has been felt with all of us. Movies have been moved to streaming platforms and companies developed streaming apps for content, but there's still one thing that we've been missing. . .
BROADWAY! — Okay, it's not really Broadway, but that's what it will feel like for some of us.
Tahoma High School is proud to announce that their new fall play, "Radium Girls" is now in production.
Cast and crew work hard everyday, practicing and rehearsing until they get it just right.
If there's anything I've learned it's that nothing is possible without the synchronized teamwork behind and on-stage. The crew is what makes the show function and they are the soul to a well-organized play. They're working hard to make sure that the cast have everything they need before they go on stage. The cast is the heart and they are what make the show come to life. They touch the souls of the audience making us anticipate the next scene.
I went backstage to interview a few of the crew members that were available.
Could you please state your name and your role?
"Hi, I'm Maya Witt, I'm the stage manager.
"I'm Susanne Roberts and I am assistant stage manager."
"I'm Naomi (Roper), (and) I'm on running crew."
"I am Quin Drier and I am a sound assistant."
What made you interested in participating in the play?
"I've been doing crew now since I was a freshman and I've worked on building sets since I was in eighth grade. So, I've just been doing it for years and I wanna go into it as a career," Maya Witt responded.
What is the hardest part about being [their role in the play]?
"Well I've been in theater since elementary school, (and) I've usually done acting, but this year I decided to try (out being a) crew (member), which fascinates me. (And) It's a good opportunity to try (it out) since (it's my) senior year and all," Naomi Roper confessed.
How long have you been participating in plays?
"Since my sophomore year, so I wanna say 2019. Or late 2019," Susanne Roberts replied.
Did you have any prior knowledge about the (true) story?
"Yes, actually. I knew about the novel," Quin Drier told me.
Afterward, I went around and asked any cast member who was willing to be interviewed. Luckily I had so many volunteers who were up and ready for the task at hand. Unfortunately, I could not quote them all. 
[
With those who consented, I have embedded the recordings of the rest of the volunteers below the article
].
Could you please state your name and your role?
"I'm Katria Noonan (and) I play Grace Fryer."
"Hello, my name is Josh Miller and I play Arthur Roeder."
"Hi, my name is Zach Smith-Stoe and my role is Charlie Lee."
"I am Will Aris and I play (Edward) Markley and understudy for (Arthur) Roeder in 'Radium Girls'."
"I am Colin Laskarzewski and I play Dr. Frederick Flinn and Raymond Berry."
"My name is Filippo Forte and I play (Dr. Von) Sochocky."
"My name is Jayson Goshen, I play the role of Dr. Harrison Martland, Dr. Cecil Drinker, and Board Member #1."
How long have you been performing?
"I've been performing for eight years," Josh Miller confidently said.
What made you interested in the play ("Radium Girls")?
"I kind of just wanted the experience before I got into musical theater. That was the biggest thing," Will Aris stated.
"I just kind of need(ed) something to be social," Jayson Goshen told me.
Did you have any prior knowledge about the (true) story?
Both Colin Laskarzewski and Filippo Forte had their own unique knowledge about the true story of "Radium Girls".
"Yes. Yeah. . . I think I have a book on elements that I was reading that talked a bit about 'Radium Girls' in under (the) Radium (section). And then some other history classes (that I've had) where it's come up. But yeah, it's come up (from) somewhere," Colin Laskarzewski said.
"No. But I knew that there was (were) a lot of problems with factory workers in the (that) time period," Filippo Forte remembered. 
What is (would you) say (is) your favorite characteristic/trait about your character[s]?
"I like Grace because, while she is very quiet and very unassuming, she also holds this very deep power in herself that comes to fruition as (when) she takes on the company," Katria Noonan stated.
"I'd say my favorite characteristic about him (Charlie) is that he is just so — he has so many emotions. Like, he goes from one emotion to another. Just of (Like a) flip of a switch. One moment he's completely calm and then another moment, he's just angry. Like violently angry. And then the next moment he's just, hopeful and I think that's just a really interesting characteristic," Zach Smith-Stoe confessed.
I was truly fortunate to sit down with the director herself, Mrs. Bean, just before rehearsal started.
Could you please state your name and your role?
"My name is Melissa Bean and I am the director of "Radium Girls'."
Why did you decide to go with "Radium Girls" for the fall play?
"Oh, that's a good question. First, I was looking for something that I felt had some strong acting material in it, so opportunities for students who really explore creating characters and just really  — just a story that they can really sink their teeth into and really do some deep character work. I also think even though this is a story that took place almost 100 years ago there's a lot of themes in the play itself that are relevant to contemporary times and themes that we've seen re-occur throughout history.
So, I also thought it was a relevant choice and third, our other two shows this season are based on true stories and 'Radium Girls' is as well, so it seemed like a good way to unify the season of having shows based on true stories."
Did you have any prior knowledge about the (true) story?
"No, actually. I had ordered a bunch of scripts over the summer 'cause I was optimistic that we'd have live theater again this year, and so I just started reading scripts and that was probably the fourth one I read and I was just immediately captured by the story. Like, 'Wow this is true, this actually happened' and then I actually went and got the novel because I wanted to read more about it. And the novel. . . I think I got through it (read it) in two days. I was just engrossed. So, no. No prior knowledge, but now (I'm) completely fascinated about it."
What can people expect to see at the show?
"They're gonna see students putting their hearts and souls into bringing live theater back. Both cast and crew have been working so hard and we've had to change the way we operate, and work in masks, and do things completely different than we have in the past. So you're gonna see that hard work, but you're also just gonna see the joy and excitement of having live theater back."
When do tickets go on sale?
"Tickets go on sale to the general public on Friday, October 29th at 9 AM at tahomadrama.org."
You can purchase your tickets at https://www.tahomadrama.org/
So grab your friends and family for a night of fun.
I hope to see you there!
THE LINK BELOW CONTAINS THE FOLLOWING VOLUNTEERS WHO WERE INTERVIEWED: https://drive.google.com/drive/folders/1vg_qRbBVjEdqhMpFtAPQC43x20z1doRw?usp=sharing
Haley Traini
Mallak Attwa
Ruby Jorgensen
Zoe Collins