The Washington Nationals and their Commander, Stephen Strasburg
A World Series to end a decade, who will come out on top?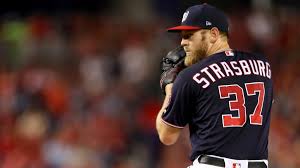 As the game came to a 3-2 count, the Nationals were looking tired. Pitching wasn't near spot-on, hitting was being overcome by perfect pitching. It looked as if the reigning champions of 2017, the Houston Astros, were going to pack it away and take another trophy home. The vital turning point of the series, game 6, advanced towards the little team from D.C. The Nationals knew this was their last chance. As Stephen Strasburg dug up the mud mound 60 feet and 6 inches away from home plate, the Astros had already lost. They didn't stand a chance against the Ace of the Nationals lineup, and Strasburg would make them pay. As they knocked down the Astros 7-2, what would the final game of the series tell about each team?
Game 7 is, by far, a stacked game. This is "the first Game 7 matchup between former Cy Young winners in World Series history" Bob Nightengale from USAToday brings up. Pitching couldn't be more locked down. Even though they aren't pitching their best performing pitchers, they are still two of the greats in the Major Leagues. "Two days ago, Scherzer couldn't get out of bed or dress because of neck and back spasms. Now, he will be pitching the biggest game in franchise history." Nightengale reminds us.
"I think you're lying to yourself if you can treat or really approach it like any other game," Sean Doolittle, a pitcher for the Nationals, said to ESPN. What he said makes sense. This could be the biggest game in one's life. It needs to be more than "If we win, we win. If we lose, we lose." Both teams need to take the best approach to the last game, whether that means pitching or a lineup change. This is for the best because players aren't playing for money or contracts anymore. They're playing for that trophy at the end.
We already have somewhat of an idea of how the game will play out. Bleacher Report, an online website that reports new sports findings, gives a prediction for Wednesday. They have it set as "Houston 5, Washington 3" and even though a good deal of people might disagree, Bleacher Report has a reason to believe this. Even though they have come off of a loss, they have hitters that are on a home run hot-streak. Their pitching, although maybe not as initially good as the Nationals, is more equipped to survive more innings. Joe Tansey from Bleacher Report informs that, "If Houston once again gets production from all parts of its order and receives a jolt from one of its sluggers, it could be the first home team to win in the best-of-seven series."
Here's a prediction. The Nationals, coming off of a 7-2 beat down will be more prepared and fired up to go the distance and win the entire series. The final score will be close but will still give an advantage to the Washington Nationals. This in contrast to Bleacher Report's prediction, and many people in Houston's, come out to be 7-4. It'll be a pretty high scoring game, but the Nationals will come out on top.