Was the movie JoJo Rabbit a good choice?
A review on Taika Waititi's most controversial movie.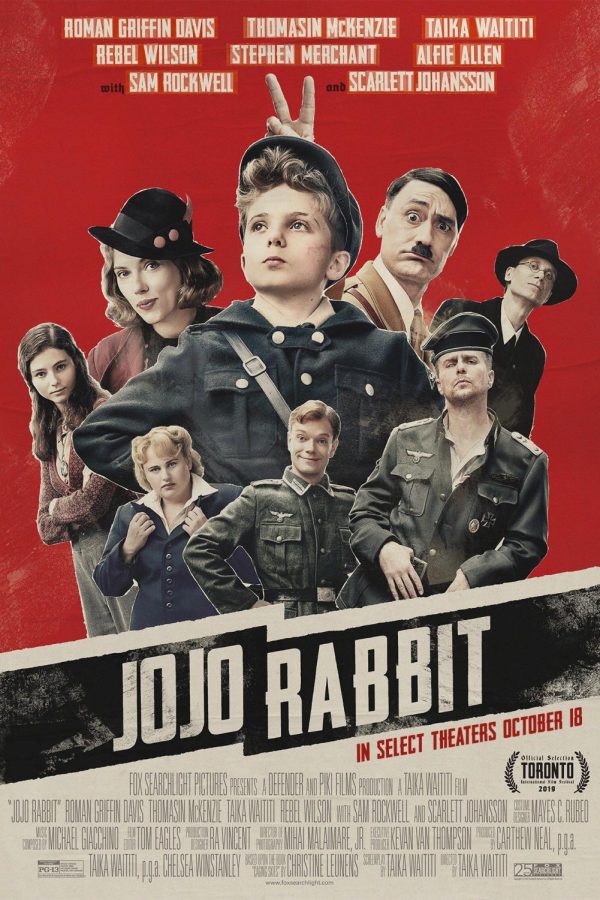 One of the most controversial pieces of October 2019, JoJo Rabbit hit the theaters. A movie starring a young german boy named JoJo Betzler (played by Roman Griffin Davis) in Nazi Germany whose imaginary friend is Adolf Hitler (played by director Taika Waititi) himself, who wouldn't be surprised by that? 
With no father present, JoJo lived alone with his single mother, Rosie Betzler (played by Scarlett Johanson). Or so he thought. One fateful night when JoJo is home alone, he hears noises upstairs as if someone else was in the house. Curiosity takes the best of him as he made his climb upstairs to his sister's room, where he found a hidden room, housing a Jewish girl named Elsa (played by Thomasin McKenzie), living there.
After meeting Elsa, JoJo at first wants to report her, as his views were the same as most people in Germany at the time. His thoughts were heavily fueled by his imaginary friend, Hitler. But slowly, he grows closer and closer to Elsa, and his view on the war and Nazi's starts to change. 
JoJo Rabbit is by far one of the funniest and emotional movies I've seen this year. Each scene either makes the audience laugh and wanting to see more or cry over the sad truth to the movie. Starting out as a comedy, the movie hits a critical point where comedy turns to emotions, as the war around the young boy is raging on.
Overall, I put this as a must-see movie. I saw it with my dad and we left the theater wanting to just go back and watch it again. It's incredibly well written and has a happy ending (which is weird to say, as it's a movie about Nazi Germany). The movie currently has a 79% on rotten tomatoes, a 7.9/10 on IMDb and a 4/5 on Letterboxd. As of November 5th, 2019, JoJo Rabbit has made a worldwide total of 5.7 million dollars, and I'm sure as the month progresses that number will for sure change.
If you're in the mood for an emotional comedy, JoJo Rabbit is for you. Taika Waititi really went all out on this one, and it pays off incredibly well.  It makes me wonder what controversial movies Waititi might make in the future. His production of all his movies have been interesting and fun to watch, so I'm definitely going to see his next film.
About the Contributor
Devin Dalrymple, Contributor
My name is Devin Dalrymple, and I'm a freshie. I'm what they call a "Horse Girl" and no, I promise I won't hiss at you. If you could guess from...