The Quest for the Perfect Pizza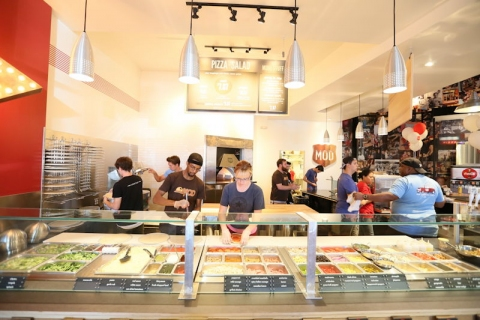 Maple Valley is filled with nearly a dozen  pizza places, but which one is the best? Is it the fast food chains or the homemade family businesses? What do the Maple Valley citizens say?
According to Google Reviews, out of Frankie's Pizza, Pizza Hut, Farrelli's Pizza, Domino's Pizza, Papa John's, and MOD Pizza, the ratings were close but MOD has the best ratings with a total of 4.6/5 stars. While other restaurants got 3-4 stars, the main reason MOD is so popular is because of the amazing service, the extremely short waiting time, and the variety of choices for toppings for the pizzas. 
Restaurant reviewer, Theodore Henry, said, "Great restaurant. Any spicy pizza from here is delicious. It takes less than five or so minutes to get your food once it's in the oven. Also, the ice in the machines is super great, easily chew able. Good variety of fresh teas and lemonades too." He gave MOD a total of 5/5 stars. MOD does have a reputation for their ice, the perfect ice to snack on.
Aaron Pearlman gave a short yet sweet review, "Very fast and the staff delivered genuinely friendly service." It's no secret that MOD employees are friendly, if you've ever gone you've probably had at least one long chat with the person behind the counter. There have been rumors going around that MOD employers hire felons to get them back on track with a sturdy job, but that is not confirmed and may just be assumptions.
 Finally, for my review; I have went to MOD, bought a plain cheese pizza and tested a plurality of factors to rate this restaurant.
When I first walked into Mod there was only one person in front of me in line and two people helped both of us, I asked for a MOD size cheese pizza. As I looked at the different sauces, toppings, and condiments I saw a wide variety of vegetables and meats. I bought a soft drink, at the drink stand their was chew able, crunchy ice with a wide arrange of sodas; as well as teas and juices. I got my pizza in only 5 minutes and sat down to test out the pizza. Once it cooled down a little bit I tried it, it was a good food to fill you up, the cheese is perfectly melted on the flat warm crust. This pizza, in my opinion, is the best to fold since it's so thin. Two groups were sitting in the restaurant but the rest of the restaurant was clean and organized. 
To sum it all up, I agree with the rating saying that MOD Pizza is the best pizza place in Maple Valley because of their good service, a variety of different foods, drinks, their famous tasting pizza, cleanliness of restaurant, and waiting time. I give this restaurant a 4.8/5.
About the Writer
Chloe Bradberry,
Hi, my name is Chloe Bradberry and I'm a freshman here at Tahoma High School. I have gone to Tahoma since grade 1 and have lived in Washington pretty much...