Camera, Lights, Action!
3…2…1… Action! Here at Tahoma High School, you've probably seen the familiar faces on your classroom projector every Monday. Presenting you with information to help your week become a little easier. Meghan Anderson and Carter McMillan are a few of the students who work to provide the announcements you see every week, but what doesn't always come across your video screen is the work that goes into each production.
Though a five-minute video every week might be seen as simple, the process behind it all goes a little more in depth. Anderson is a senior in the advanced video production class and is now taking her second year of video production. She uses her passion for editing to easily overcome all the work that goes into the class. "There's a lot of outside school things… [like] outside filming. I [also] go into Power Hour a lot just to get extra stuff done but it's really not that hard." Using her devotion toward the class, she knows to put in the work to help other students get updated while also being able to show her creativity in her passion.
McMillan is a freshman at Tahoma High School and is currently in the Fresh/Soph Video Production class. He seems to enjoy the class very much saying "The teacher, Mr. Haag is super nice and makes it pretty easy to pick up." He has learned a lot of knowledge that will help prepare him for a job in the future. Over the course of the year, he has become very familiar with Adobe Premiere Pro (the software that they use). "I just edited a video today, and it took about 30 minutes," said McMillan. In reference to the video making process, "You also learn how to make a script and draw a storyboard" he said. These skills will be useful for him in the future.
McMillan and Anderson have different roles in their Video Production class, but they both work to create content that's original, and helpful for their fellow classmates at Tahoma High School. So next Monday, when it's time to watch video announcements, think about the work that went into each segment, and the time it took behind each clip.
About the Writers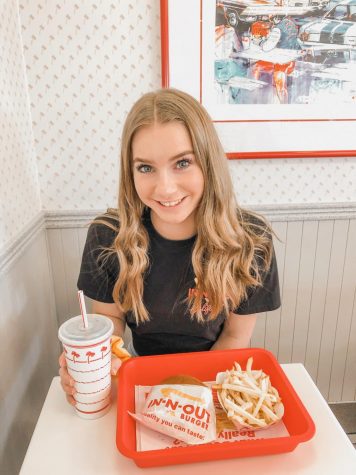 Alyssa Stern, Staff
Hello my name is Alyssa Stern. I am a freshman here at Tahoma High School, in my first year of Journalism. I enjoy photography, traveling and creative...
Caitlin Nguyen, Staff
Hi my name is Caitlin Nguyen I am a freshman at Tahoma High School, and this is my first year in journalism. It is my first year in high school and so...