Get to Know Some of Tahoma's Pole Vault Jumpers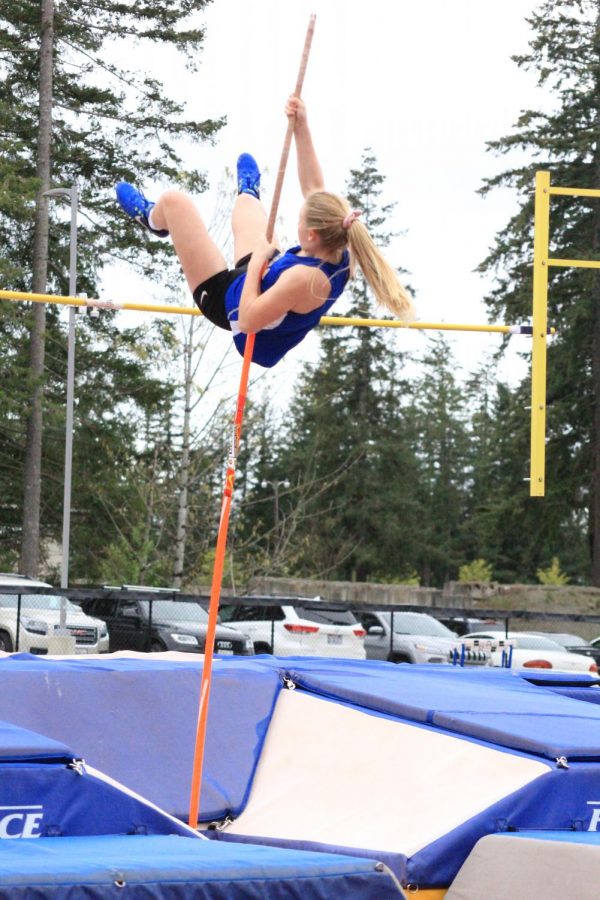 Veronica Anderson, Staff
May 8, 2019
Their energy is high, blood is pumping, and hands are shaking; the intensity around them is winding them up, getting ready for what's to come. They know they have to beat their personal record and they're ready, they've trained hard for this moment and they know they have tons of people supporting them, no matter what. That is the life of the one and only pole vault team.  As of right now, at Tahoma high school, the 12 member pole vault team is participating in this years track and field program working hard for the meets they have almost every week.
Steven Kent, the coach for Tahoma's pole vault team has participated in the sport pole vault since junior high, and continued throughout college. In regards to what goals he wants to achieve with the team this season, he says  "My goals are really just for all for all my athletes to improve their marks from last year if they're a returning vaulter… one of my goals is to hopefully, help them have fun, but also achieve their goals." Kent says that he has the team create goals in the beginning of the year in order for them to work towards that.
First year pole vaulter, Freshman Katie Welsh, says she wants to improve on her "PR" or personal record. Welsh says all the "vaulters" support each other by "cheer[ing] each other on or give[ing] each other tips on how get over better…" The support during the meets really comes in handy when the vaulters need it the most.
Senior Zach Klobutcher, whose personal record is over 16 feet, also talks about his what he loves most about this sport and why he loves it. "My favorite thing about doing pole vault is falling. Once you get in the air you're just kind of free falling for a good, half a second." Klobutcher says that pole vault is "a really cool sport" and believes that anyone can do it.
The team has had a pretty good season so far, and the team has been striving to become the best that they can be while also having fun. With the track and field season ending soon, the pole vault team can only get bigger and better from here. Make sure to support Tahoma's pole vault at their next meet!