Captain Marvel Review
Girl power goes super power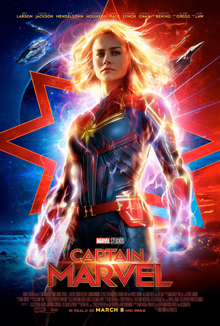 With the premiere of the hit movie Infinity War, and Endgame just around the corner, it's clear a new age is starting in the Marvel universe. But with an ending comes a new beginning and who is leading this new age: Captain Marvel. The movie premiered March 8th and has in just over 2 weeks grossed $812 million, in the opening weekend it made roughly $282 million beating many other Marvel movies such as Captain America: The Winter Soldier, and Doctor Strange.
The movie stars Carol Danvers aka. Verse, played by Brie Larson, who is a soldier that fights for an alien race called the Kree against the Skrulls. The movie follows Carol on her mission across the universe where she meets other beloved Marvel characters such as Nick Fury, played by Samuel L. Jackson and Agent Coulson, played by Clark Gregg.
Captain Marvel is the first Marvel movie with a female as the leading role which is revolutionary on its own. The movie is huge on women's empowerment and although it isn't the core focus in the movie it is an ever-present theme. The movie includes many scenes that show what it really feels like to be a woman. Captain Marvel is one of the best movies of this year, not only is it a great superhero movie it has the comedic mark of Marvel movies and is genuinely interesting to the reader.
Captain Marvel leading a new era of not just movies, but empowerment for women. Complete with not just an amazing plot and super-powerful characters, the movie uses amazing special effects sure to blow the audience away. Captain Marvel is a wonderful movie and another great addition to the Marvel cinematic universe.
About the Writer
Kylie Miller, Writer
Hey all,

I am a freshman, so I was pretty new to writing, especially writing for the news when this year started. But overtime I gained confidence with...