Is LGBTQ+ Considered?
LGBTQ+ matters of THS considered
Awareness of the LGBTQ+ community is swiftly expanding in the 21st century, especially in the last few years. The number of supporters of the LGBTQ+ community is larger than opposers. According to a poll done in 2017 by Pew Research Center, 62% of Americans support same-sex marriage, while 32% are against it. This is a huge jump from the 57% of Americans opposing it, found in a 2001 poll Pew Research Center did pertaining to the same issue. Despite the rising support, the numbers of opposition are an impacting stress on the community. Actions are being done to further protect and normalize the LGBTQ+ community all over the world in light of this. The question is: is Tahoma High School following suit?
LGBTQ+ is an acronym for a historically rejected group of people that differ from the status quo of love and gender. It means Lesbian, Gay, Bisexual, Transgender and Queer. The plus sign is for the many other variations of sexual and romantic orientation and gender identification. To put it simply, LGBTQ+ is a group of those who are not attracted to the opposite gender exclusively and/or do not feel like the gender they were assigned at birth.
A big important part of feeling accepted and valued as a member of the LGBTQ+ community is seeing others like oneself outside of one's own mind. This is called representation. I asked several LGBTQ+ students if they've seen enough representation of the community in Tahoma High School.
"[Besides GSA], not really. The only inclusivity that I have seen so far is the GSA and Ms. Ledford. I know there are probably other teachers out there, but they've not really shown that much," said junior Madison Farnsworth.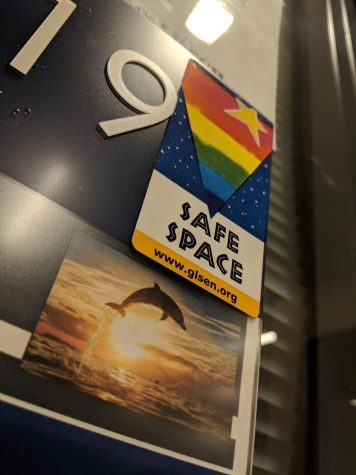 Freshman Katelynn Campeu said the same as Farnsworth. "At this point, it's kind of odd not to see teachers who are not supportive. But I haven't really seen anything [representation outside of GSA]." She was questioned about what she meant in her first sentence and she further explained that seeing teachers who are not outwardly supportive of the LGBTQ+ community is not a rarity. It is common.
However, freshman Max Stewart begs to differ on the common theme of the subject. "I've seen buttons – oh, so many buttons! – from the GSA. I've also seen a few posters in the back of the alley in the PAC. Seeing students wearing a lot of inclusive shirts. I feel we're well represented and well respected." They were enthusiastic in saying as well,  "Funny thing is, I've always liked this school because it was the first time that I was just walking around and have people ask, 'Oh hey, what's your pronouns?' And I'm just like, 'What? You're actually asking me this?" Stewart was visibly surprised, and honestly, I was too.
After interviewing students, I found some local LGBTQ+ friendly teachers and got their thoughts on the matter.
When speaking to English 9 teacher Catherine Zogby-Boys, I asked her about the curriculum's LGBTQ+ inclusion in addition to the school's effort in representation. She said, "I think that some of the authors we cover do represent the LGBTQ community, but as a school and as an English department, I don't know if we always are intentional of bringing that aspect into our discussion. We have not really deliberately gone out to make a point of it to find LGBTQ voices to bring into the curriculum and that's something I think we can do a better job with." She expressed that the 'shared uniform' curriculum is based in Springboard, so if any changes were to be made to bring LGBTQ+ inclusion into the teaching plans, all English teachers would have to agree.
French teacher Hilary Ledford followed suit of Stewart, saying that there have definitely been some improvements in representation of the LGBTQ+ community. She also explained how important representation in teaching is important. "Seeing yourself in what you're learning makes it more personal," said Ledford.
Within the talk of the school's representation, every person interviewed mentioned the GSA.
Gay-Straight Alliance (GSA) is an ASB funded club run by Ledford that meets on Mondays at Power Hour A. It was created to be a safe, welcoming and accepting space for LGBTQ+ students. They value love and safety for the community greatly and have worked hard to educate teachers via Safe Spaces Training (their attendance being shown by having Safe Space stickers) and even student allies – or supporters – on how to be openly accepting and supportive of LGBTQ+ people here at Tahoma High School. The Safe Spaces sticker is a very popular and obvious way of showing support for the community within the school, though it is not the only way for others to know. The club seems to be pulling more than its fair share of weight in keeping LGBTQ+ students up on their feet.
Should the school be making more of an effort to welcome in the LGBTQ+ community?
Just as much as welcoming the community in, safety is equal to or more important than representation. Hearing of wrongdoings, even as going as far as murder, to LGBTQ+ people is sadly a common thing to hear nowadays. This is why their safety at Tahoma High School is an important aspect to consider. LGBTQ+ students were questioned if they felt safe at school and if they experienced or witnessed harassment.
"Definitely not," said one student immediately in regards to feeling safe. They followed up with, "As much as I'd love to be open about it, I just can't… I remember seeing a few people being bullied and people making jokes about them behind their back about the topic. In general I hear people making homophobic jokes like that. Sometimes I feel like they're just trying to make a joke, but it goes too far." They felt like only some teachers take this seriously and other teachers and officials take it too lightly.
"I feel safe here. I haven't experienced any [form of harassment]… but I feel like students be like, 'Oh, this is a joke!' and turn it into something funny like they do with everything." said senior Kaitlyn Farnsworth.
"We're considered complete laughing stocks [by other students]," another student said. The student claimed they've heard numerous students make fun of others for being transgender or asexual.
Mentions of lots of homophobic jokes going around the school and how it is discouraging is worryingly high. This is evidently a serious issue that is possibly prohibiting lots of LGBTQ+ students from coming out and/or being truly themselves. So far this is the only harassment others have mentioned, but it is still a big problem that needs to be dealt with.
Tahoma High School officials claim to take issues of LGBTQ+ harassment seriously, however, these claims do not quite add up for everyone.
Zogby and Ledford believe officials in the school take the LGBTQ+ community in Tahoma High School pretty seriously and that their hearts are in the right place. However, some students said they felt that the issue was taken lightly and that more efforts of support and safety needs to be implemented.
Finally, this all leads up to: can there be any improvements to the school in regards to the LGBTQ+ community?
Stewart suggested that Tahoma High School should host assemblies in the PAC for parents of LGBTQ+ students to further represent the community in the school and to educate parents. Another idea of theirs was to make a support line for LGBTQ+ students who need help, for problems ranging from ugly home situations to needing assistance in other LGBTQ+ related issues.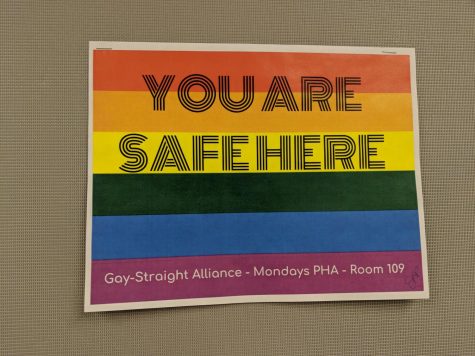 Campeu said she wished that teachers would take more action and crack down on derogatory language in everyday classes.
Some feel satisfied in Tahoma High School's actions for the LGBTQ+ community. "Tahoma's okay, needs more improvement, but it's better than other schools," Madison Farnsworth claimed.
"There can always be improvements, in tactics and means of support," Zogby stated.
One can reflect on the information and consider it in retrospect – in terms of inside the school and out in public. It doesn't matter whether one supports the LGBTQ+ community or not because it exists and there is no way to cram it back into a dark corner and ignore it anymore. The community is increasing popularity, making its way out of the closet and freeing people of all ages all over the world. To put it simply, the community is undeniable now. Tahoma High School is getting up to speed in catering to LGBTQ+ needs, but it is evident there is much more work to be done.
About the Contributor
Rylee Cass, Writer
Hello! My name is Rylee and I am a 15 year old Freshman with a love for music, philosophy, fandoms and creative writing. I play the violin for Maple Valley...