Rwanda Rise and their mission to uplift Rwanda after genocide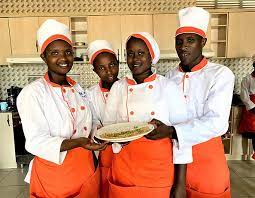 On October 15, I was fortunate enough to attend a gala benefiting the organization Rwanda Rise. Founded by Emmanuel Sitaki, the foundation provides vocational training for disadvantaged Rwandans. 
Rwanda Rise seeks to provide education and guidance for its students, many of whom have a past marked by the tragedy of genocide. 
Torn apart by systematic killings of Tutsis in 1994, Rwanda is a country of healing. Despite their difficult history that only aggravated Rwanda's widespread poverty, the country is considered the sixth safest in the world (Business Insider Africa). 
Sitaki, himself narrowly evading the genocide, founded the organization after realizing that young survivors were in desperate need of education in order to break the cycle of poverty due to the violence. 
Rwanda Rise is run on donations, with about $700 funding the tuition for one student. 70% of enrolled students are women. 
On April 7 1994, the presidents of Burundi and Rwanda tragically died in a planecrash. Radio broadcast program Radio Television Libres Des Milles Collines attributed their deaths to Tutsi militia group  known as the Rwandan Patriot Front. The broadcast incited violence against the Tutsis and began the systematic killing of Tutsis in Rwanda. An estimated one million people died and 150,000-250,000 women were sexually assaulted over the course of 100 days (Rwanda: A Brief History of the Country- UN). 
The genocide came to an end as French humanitarian project Operation Turquoise saved lives in Southwest Rwanda, although there are accusations that the French allowed soldiers and others involved in perpetrating the genocide to flee. The RPF took control of Rwanda on July 4, effectively ending the killings in other areas. 
Towards the end of 1996, trials began to bring those responsible for violence during the genocide to justice. 
Despite the government's attempt to implement justice, the effects of the genocide are still felt today as survivors lost their homes and families.  
Remarkably, though, Rwanda has made astounding progress economically as they now have one of the fastest growing economies in Africa. 
Rwanda Rise seeks to aide Rwanda in pulling citizens out of poverty by providing necessary training to alleviate unemployment. The foundation boasts that 90% of their students get enrolled in their respective fields after graduating. 
If you are interested in learning more about Rwanda Rise's mission or donating, visit their website here: https://www.rwandarise.org/.